This article or section is a stub. You can help the Heybot! Wiki by expanding it!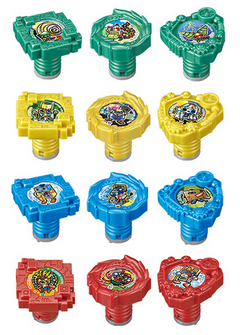 Voca Neji (ボキャネジ Bokyaneji) is a type of Neji (ネジ, "screw") that is produced by Voca Bots and used in Voca Battles. They have four attributes, three forms, and four rarity levels. There is also a type of Neji called Eto Neji (エトネジ) that has different shapes.
Attributes:
Party (パーティ Pāti, red)
Intelli (インテリ Interi, blue)
Impact (インパクト Inpakuto, green)
Surreal (シュール Shūru, yellow)
Shapes:
Rarity:
Normal (ノーマル)
Rare (レア)
S Rare (サイコーレア, "Saikō Rare")
SS Rare (シークレットサイコーレア, "Secret Saikō Rare")
List
Most Voca Neji are named after Japanese onomatopoeia and vocabulary and used to form words and gags.