This article or section is a stub. You can help the Heybot! Wiki by expanding it!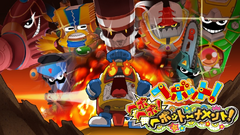 Heybot! Hebo Hebo! Heybotournament! (ヘボット! ヘボヘボ! ヘボットーナメント!) is a puzzle game released for Nintendo 3DS via Nintendo eShop only in Japan on September 14, 2016.
Gameplay
Heybot! Hebo Hebo! Heybotournament! a puzzle game in which the player uses Heybot in a Voca Battle against one Roboca Bot in a tournament. The Voca Battle is made by matching three or more of the same Voca Neji on their bottom of their screen. After making three combinations, the character will make a gag, pushing the opponent away. The winner is the one that pushes the opponent to the end of the screen or has more space when the time is over. Combining five Voca Neji will make one Eto Neji appear, which summons its Eto Voca Bot to help by clearing several Voca Neji in the screen.
Characters
Video
External links